Leading up to COP21 in Paris in a couple of weeks Fuels America has launched a climate campaign targeted at President Obama. The campaign encourages him to tout the success of the Renewable Fuel Standard (RFS) during the climate talks. Fuels America is calling on the administration to get the RFS back on track. During the call biofuel industry representatives discussed how the decision on the RFS will be critical in determining if the U.S. will lead by example on climate action. The campaign includes full page ad in the New York Times and digital ads in the Beltway.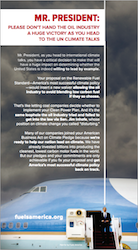 "If the President doesn't reverse course on the disastrous proposal, he will effectively be letting the oil industry and climate deniers in Congress dictate our climate policy," said Roger Johnson, president of the National Farmers Union, during the press call. "It will upend America's most successful policy cutting greenhouse gas emissions and combatting climate change, and stifle investment in advanced biofuels in America."
Speakers noted the threat to the advanced biofuels industry is significant with $13.7 billion in investment in advanced biofuels currently frozen according to a report from BIO. Chris Standlee, executive vice president of global affairs at Abengoa Bioenergy, noted during the call that Abengoa is looking to deploy its cellulosic ethanol technology overseas due to the uncertainty caused by the current state of the RFS. The company's first cellulosic ethanol plant went online last October in Hugoton, Kansas.
"This Administration's proposal inserts a loophole into the RFS—our country's most aggressive climate policy in force today—and allows oil companies to continue ignoring their obligations under the law," explained Standlee. "Our industry has fought and won this battle before—this waiver was sought for years by the oil industry and would allow them to control the RFS and restrict the deployment of the lowest carbon fuels in the world."
Listen to the presser here: Fuels America Launches Biofuel Climate Ad Campaign Presser Continue reading →