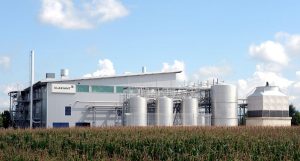 Swiss company Clariant, a world leader in specialty chemicals, has chosen Romania as the site for a new full-scale commercial cellulosic ethanol plant using its sunliquid® technology. The flagship facility will use wheat straw and other cereal straw sourced from local farmers.
"After five years of operating our pre-commercial sunliquid® plant in Straubing, Germany, and thorough process demonstration we are now ready to scale-up to the next level," explains Markus Rarbach, Head of Start-up Business Biofuels & Derivatives at Clariant.
To further focus on the commercialization of bio-ethanol, licenses and enzymes, Clariant has set-up a new Business Line Biofuels & Derivatives, as part of the Business Area Catalysis. Last month, Clariant announced the first technology license agreement with Enviral, the largest producer of bioethanol in Slovakia.