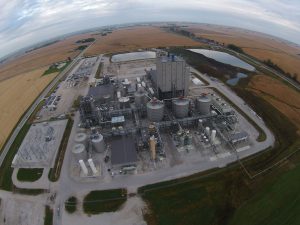 The "World's Largest Cellulosic Ethanol Plant" is for sale.
Two years ago DuPont celebrated the opening of its 30 million gallons capacity plant in Nevada, Iowa that produced ethanol from corn stover. This week, the company -now merged with Dow- announced it is getting out of the biorefinery business.
As part of DowDuPont's intent to create a leading Specialty Products Company, we are making a strategic shift in how we participate in the cellulosic biofuels market. While we still believe in the future of cellulosic biofuels we have concluded it is in our long-term interest to find a strategic buyer for our technology including the Nevada, IA biorefinery.
DowDuPont will continue to "participate in the overall biofuels market through specialty offerings including biofuel enzymes and engineered yeast solutions that improve yield and productivity for biofuel producers." The merger of Dow and DuPont was finalized on August 31.