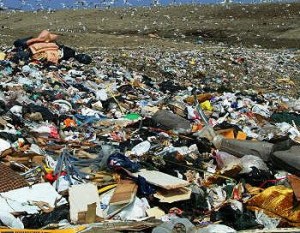 Oregon is the latest state to look to garbage for energy. Waste Management and McMinnville Water & Light will soon use everyday garbage to power thousands of homes. The $10 million plant will be sited next the landfill west of McMinnville. This plant is the first for Yamhill County and is expected to be operational by mid-2010. Once completed, the energy created will be used to power 2,500 homes.
George Duvendack, Riverbend's district manager said in a company statement, "Our groundbreaking ensures that not even garbage will go to waste. By investing in landfill-gas-to-energy, we are developing clean and renewable energy to power homes and advance sustainability in our community."
The plant works by collecting methane gas–created from the natural decomposition of waste–from the landfill through a network of underground pipes. From there, the gas will be used to power engines, which will then generate electricity on-site for sale to McMinnville Water & Light. The EPA has endorsed landfill gas an an environmental friendly energy option.
"Landfill gas is an especially smart option for us because it is a resource we already have in the community. That translates to lower costs for customers because there are no transmission fees," said Paul Elias, general manager of McMinnville Water and Light. "The fact that landfill gas is renewable and reliable is important as well. Wind and solar are renewable, but not as reliable. With gas from Riverbend, we will have a steady and reliable source of clean and low-cost energy for decades to come."
Waste Management is also developing a similar energy plant at its Columbia Ridge Landfill, located in Arlington, Ore., which is expected to go on-line later this year.