Okay, I just couldn't resist this story. The citizens of Manchester are engaging in the green energy revolution by flushing the loo. Yes, you heard correctly. Simply flush your poo down the loo and generate renewable energy through biomethane.
In a UK first, United Utilities has teamed up with National Grid to convert a by-product of the wastewater treatment process into gas for injection into the local gas pipeline network and fuel for a fleet of sludge tankers. The ground-breaking initiative is centered on one of the country's largest wastewater treatment plants at Davyhulme in Manchester. The program received funding from Defra's Waste & Resources Action Programme.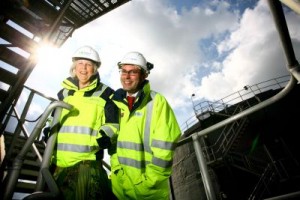 Caroline Ashton, United Utilities biofuels manager, said, "The team is thrilled to have won this funding which will give the project a huge boost. It has been in development for some time, but now we can put our plans into action and the people of Manchester will soon be using 'poo power' to heat their homes."
The biomethane that is produced from the 'poo power' program will either be injected into the gas grid as a substitute for natural gas or compressed for use in vehicles, also similar to compressed natural gas in cars. This "renewable resource" will help lower consumers' energy bills as well as reduce the area's carbon footprint. The pilot program will supply gas to about 500 homes with a goal of supplying gas to 5,000 homes.
To my knowledge there are no similar programs underway in the States. But if anyone knows of any, please leave a comment.