According to research released by The Pew Charitable Trusts, the global clean energy sector is undergoing geographic and technological shifts as new markets emerge renewable capacity grows. There were 88 gigawatts (GW) registered in 2012 even though investment levels declined 11 percent to $269 billion from 2011.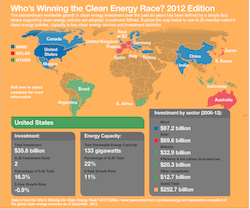 Among the Group of Twenty (G-20) nations, the United Kingdom (UK) maintained its seventh place ranking despite a 17 percent drop in investment to $8.3 billion.
Who's Winning the Clean Energy Race? 2012 Edition, found that the 11 percent decline in clean energy investments compared to 2011 levels was due in part to curtailed incentive programs in a number of countries, among them Spain, Italy, and Germany. Elsewhere, continuing support for clean energy led to record levels of investment in a number of nations, including China and South Africa. Renewable energy installations grew by more than 11 percent to 88 GW, which reflected price reductions in wind, solar, and other technologies.
"Clean energy trends demonstrate the ongoing resilience of this emerging sector in the global economy," said Phyllis Cuttino, director of Pew's clean energy program. "Investment declines in the UK and throughout Europe were offset by strong performance in the Asian region. Uncertainty surrounding the long-term direction and content of UK policies has given pause to investors. Looking ahead, the advent of a green investment bank and abundant offshore wind resources could help bolster clean energy trends in the UK in coming years."
China reclaimed the top spot from the United States, attracting $65.1 billion, a 20 percent increase over 2011 and 30 percent of the total for the G-20. China established itself as the leader in attracting investment in wind, solar, and other renewables. It added 23 GW of clean energy generating capacity, bringing its total to 152 GW, the most of any nation.
The United States fell to No. 2 as investment in the sector declined 37 percent, to $35.6 billion. Continue reading →