It's spring and most people are tired of the snow, but not Berkshire East, who has completed a solar installation that enables the Massachusetts family ski run area to be powered entirely from onsite renewable energy. The year-round resort recently developed a 500kW solar tracker farm that will produce 700,000kWh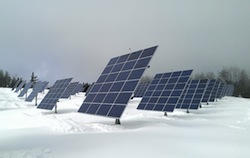 annually. The solar farm will supplement a 900kW wind turbine the company installed in 2011. Together, the two systems will cover the area's entire annual electric demand. The solar farm is expected to produce 700,000 kWh annually and the wind turbine produces 1.4 million kWh annually.
"We view on-site renewable as a hedge against the rising price of power," said Jon Schaefer, Berkshire East, located in Charlemont, Massachusetts and hosts over 100,000 skiers annually, has six lifts and two lodges. "Energy is our largest non-labor expense and it's the one thing we are most dependent on beyond the snow."
The recently commissioned 500kW solar farm consists of 90 dual-axis AllSun Trackers, which are manufactured in Vermont and follow the sun throughout the day to boost energy production by up to 45 percent more than rooftop installations. Sustainable Energy Development Inc. (SED) of Ontario, NY developed the project. SED chose the solar trackers for the project and managed the design and installation. The solar trackers at the farm use GPS and wireless technology to position the more than 2,000 solar panels directly into the sun throughout the day, boosting production by up to 45 percent over rooftop installations.
"We built our product produce more energy from the sun each day and withstand the harshest of northeastern climates," said David Blittersdorf, CEO of AllEarth Renewables. "We were particularly excited to be involved in this unique project and thrilled to have AllSun Trackers helping power Berkshire East's operations."
Kevin Schulte, CEO of SED, added, "Berkshire East Ski Area is a prime example of how distributed energy projects like wind and solar can help small, family-owned businesses thrive."