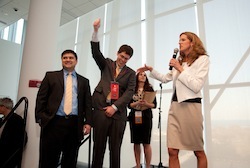 Earlier this month, the winners were announced in the Clean Energy Challenge, and prize winner, Ornicept, has a unique technology that can aid in the mitigation of bird issues associated with wind turbines. The technology was developed last May by young entrepreneurs Justin Otani and his co-founder Russell Conard, who graduated from Indiana University. Early on they won a business plan competition called the "Best Competition," that gave them the initial seed capacity. From there they relocated to Ann Arbor, Michigan.
Conard, says Otani is computer scientist with a bird habit and in college set out to create a computer program that could identify birds with video. When reaching out to biologists and other people on how he could improve the system, the commercial applications became apparent. Simultaneously, while Conard was working with biologists, Otani was working at the Johnson Center for Entrepreneurship for Innovation and running the on campus incubator and also serving as a consultant for student-started companies. It was through this process that he was connected with Conard.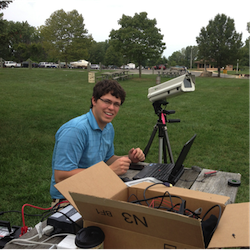 Otani said there needs to be a balance between business and the need to protect wildlife – an issue that the wind industry is also dealing with. Eventually, the technology emerged and when it did, it was a state-of-the-art network of distributed cameras, computers, and computer vision algorithms. When working in tandem, it is a system for remotely collecting data on birds by species as they move through a survey zone.
What's interesting, Otani explained, is that it may not be a whole wind farm that creates risks to bird but maybe one or two wind turbines that have the majority of impact. So if it's pre-construction, using their data that lets you know where those high use areas are, you can often offset the placement of the turbines, even a 100 meters, and dramatically reduce the risk to birds.
Today, the technology is being beta-tested and refined and the plan is to roll-out the technology full scale soon. In anticipation of the launch, the Ornicept team will be displaying and discussing their technology during the upcoming American Wind Energy Association Conference & Exhibition taking place May 5-8, 2013 in Chicago.
Listen to my interview with Justin Otani here: Wind Energy Technology for the Birds