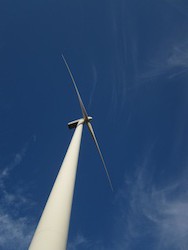 According to a story from Radio Iowa, Jay Parikh, vice president of infrastructure engineering for Facebook, was in Altoona, Iowa earlier this week to officially announce they will be constructing a 476,000 square-foot data center. One of the reasons cited for the social media giant to choose Iowa: it's commitment to renewable energy including wind energy. Parikh said the company is committed to achieving a 25 percent renewable energy mix by 2015 for its data center footprint.
"The site has ample access to power and water. It is also very close to great network connectivity, which will allow us to connect to all of the billions of people out there," Parikh said. "Most importantly, we're very excited about the talent pool in the surrounding area."
The data center is expected to create approximately 31 full-time operations jobs and Parikh said Facebook plans to build up to two more data centers in Altoona over the next few years.