The U.S. Department of Energy (DOE) has announced $32 million in funding to train Americans to enhance the country's solar energy workforce. The monies are part of the DOE's SunShot Initiative. The funds will also go to company's that can develop innovative, low-cost concentrating solar power collectors and to increase access to solar data.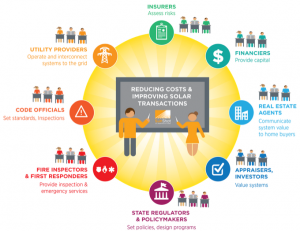 According to the Solar Energy Industries Association (SEIA) the new opportunities will:
The Solar Training and Education for Professionals funding program will tackle soft costs by addressing gaps in solar training and energy education, both within the solar workforce and in professions that play a crucial role in solar deployment.
The Solar Bankability Data to Advance Transactions and Access funding program will increase data accessibility and quality, and will facilitate the growth and expansion of the solar industry by creating a standardized data landscape for distributed solar. The goal of this funding program is to support the creation and adoption of industry-led open data standards for rapid and seamless data exchange across the value chain from origination to decommissioning.
The CSP: Concentrating Optics for Lower Levelized Energy Costs funding program seeks to further CSP system technologies by soliciting disruptive, transformative projects for the concentrating solar collectors in the CSP plant. These innovative projects will seek to enable CSP to be cost-competitive with conventional forms of electric power generation.
"Last year, a new solar energy project was installed every two and a half minutes in the United States," said Deputy Secretary Elizabeth Sherwood-Randall. "To ensure the continued growth of the U.S. solar industry and our clean energy economy, it is critical that we support workforce training programs that will give American workers the skills they need for well-paying jobs and also make sure American consumers have access to highly-trained, credentialed professionals when they choose solar to power their daily lives."  Continue reading →