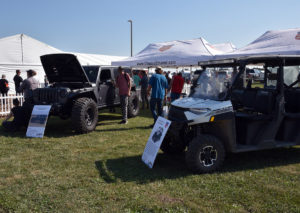 Biofuels are getting a lot of attention at the 2021 Farm Progress Show this week in Decatur, Illinois and the Renewable Fuels Association is there for the first time as an exhibitor.
RFA Vice President of Industry Relations Robert White says they are there because the Commodity Classic where they normally exhibit to talk to farmers was a virtual event this year. "We had some money in the budget to do something with agriculture and I thought Farm Progress Show would be a perfect opportunity," said White. "We're across from Illinois Corn and the rest of agriculture in the state, we're next to the media tent, we've had multiple ethanol plant investors and board members come by."
Besides plenty of ethanol information, RFA has a couple of impressive ethanol-powered vehicles on display as conversation starters – an E85-powered Jeep and Polaris Ranger.
Interview with Renewable Fuels Association VP of Industry Relations, Robert White
FPS21 Interview with Robert White, RFA (2:30)