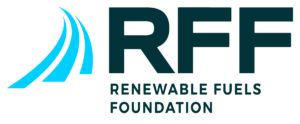 The Renewable Fuels Foundation (RFF) congratulates three young people who will be attending next week's National Ethanol Conference at no cost, courtesy of the Bob Sather Memorial Scholarship.
Shun Lu, a Ph.D. candidate in agricultural engineering at South Dakota State University, whose research is focused on developing novel nanomaterials for efficient electrolysis, including CO2 reduction;
Kendall Carpenter, now in her final semester studying business management and accounting at Missouri Western State University, who also works at Show Me Ethanol and is a member of RFA's Young Professionals Network; and
Allyson Johnson, working on a bachelor's degree in agricultural education at South Dakota State, who hopes to use what she learns to teach the next generation about ethanol's role in agriculture and transportation.
The scholarship covers the cost of the conference registration fee, a $249 value. Now in its 12th year, the program has been named in honor of Bob Sather, who was involved in education before helping found RFA member company Ace Ethanol in Wisconsin. Sather, who also chaired the Renewable Fuels Foundation, passed away in June 2020.
This year's National Ethanol Conference is being held in a fully digital format Feb. 16-18.