This has been a busy week for actions to get a permanent fix for year-hour E15.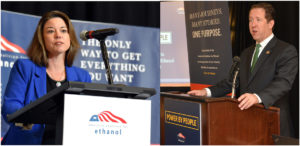 In the latest, U.S. Representatives Angie Craig (D-MN) and Adrian Smith (R-NE) introduced the Consumer and Fuel Retailer Choice Act of 2022 to enable the year-round, nationwide sale of ethanol blends higher than 10%.
The Consumer and Fuel Retailer Choice Act of 2022 would extend the Reid vapor pressure (RVP) volatility waiver to ethanol blends above 10 percent to allow for the year-round, nationwide sale of E15. In addition, it would ensure consistency across the fuel markets and limit disruptions across the national fuel supply chain by prohibiting the removal of the 1-psi waiver for E10 ethanol.
In the House, the Consumer and Fuel Retailer Act is cosponsored by Representatives Cindy Axne (D-IA), Dusty Johnson (R-SD), Dan Kildee (D-MI), Randy Feenstra (R-IA), Mike Flood (R-NE), James R. Baird (R-IN), Tracey Mann (KS-1), Jim Banks (IN-03), Mary Miller-Meeks (R-IA), Jake LaTurner (R-KS), Michelle Fischbach (MN-07), Ashley Hinson (IA-01),Vicky Hartzler (MO-4), Sam Graves (R-MO), Ken Buck (R-CO), Cheri Bustos (D-IL), Brad Finstad (R-MN), Ron Estes (R-KS), Tim Ryan (D-OH), James Comer (R-KY) and Jason Smith (R-MO).
The House bill is a companion to bipartisan Senate legislation introduced on Nov. 29 by Sens. Deb Fischer (R-NE), Amy Klobuchar (D-MN) and 13 other senators. More than 250 organizations and companies urged the Senate to pass this legislation before the end of the session. In addition, the White House Office of Management and Budget is now officially reviewing the request from nine Midwest governors to eliminate the 1-psi RVP waiver for E10 in their states and allow year-round sales of E15.
While there is some doubt that Congress will be able to pass legislation before the end of the year, Renewable Fuels Association President and CEO Geoff Cooper said, "We are highly encouraged by the broad, diverse and bipartisan support that this effort is receiving, and we urge Congress to move quickly to adopt this commonsense legislation."
"Achieving a national, permanent solution for E15 year-round is best done through Congress and we are enormously grateful for the leadership of Reps. Craig, Smith, and other House biofuel supporters for introducing this legislation to clarify the statute ahead of the 2023 summer driving season," said American Coalition for Ethanol CEO Brian Jennings.
A recent CSP survey found that one out of every five fuel retailers plan to add the E15 blend at their locations in the coming year. Currently, more than 2,800 U.S. fuel stations carry the blend.