Wesley Spurlock, National Corn Growers Association (NCGA) incoming president, farms on the Texas panhandle – in a state better known for oil than ethanol. While ethanol has gained considerable market share the last decade and the majority of gas sold in the U.S. has a 10 percent blend of ethanol (E10) Spurlock says that ethanol can, and should, continue to play a growing role in America's fuel supply. And this is where market access becomes so important.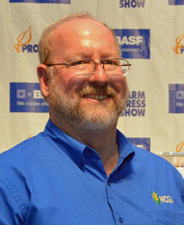 During an interview at the recent Farm Progress Show, Spurlock noted that one key to increasing market access is through infrastructure that can pump higher blends of ethanol such as E15, E30 and E85. Prime the Pump is one dedicated program that NCGA supports to assist retailers with installing this infrastructure. But the real focus, says Spurlock, is ensuring customers have the ability to purchase these higher blends and getting these higher blends in the market and available for purchase. He says that Prime the Pump helps retailers get blender pumps installed and the program has done a tremendous job of getting infrastructure built.
Spurlock noted that last year the USDA announced funds for ethanol infrastructure and when combined with Prime the Pump, in the last year or so there has been $210 million or so available specifically for ethanol infrastructure.
Another big boost for ethanol according to Spurlock? Wayne Fueling Systems has released fueling technology that is approved to blend up to E25. Spurlock said in the past, their pumps, like many other companies, were only approved to blend E10 – a barrier to E15.
"So if everything has the ability to pump at higher levels means that the auto industry and the fueling industry can use the E15, which is legal now, you'll be able to find it rather than wondering why it's legal and no one can buy it," Spurlock explains. He adds that having infrastructure in place now for the future will give the auto industry, which is looking at higher ethanol blends to meet increasing octane and fuel economy standards, the confidence they need to move forward. "Ethanol is a great octane booster. So if we can have E25, we can push octanes higher."
Learn more about market access the future of ethanol fuels in my interview with Wesley Spurlock: Interview with Wesley Spurlock, NCGA