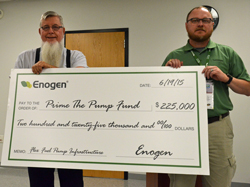 The chairman of the Prime the Pump fund says getting more fuel infrastructure in the marketplace is vital to getting higher level ethanol blends to consumers.
"It's kind of like the chicken and the egg," says Ray Defenbaugh of Big River Resources in West Burlington, Iowa. "The autos hold off because of the pumps, pumps hold off because of the retailers, because of the autos."
Defenbaugh says government programs are nice, but it's really important for the industry to help early retail adopters of high-level ethanol blends through grants to reduce their initial investment in infrastructure. "This is a self-help effort by not only the ethanol industry, but people who benefit from the ethanol industry."
Syngenta announced a major donation to Prime the Pump at the recent NASCAR American Ethanol 200 in Iowa, which Defenbaugh was pleased to accept from Chris Tingle with Syngenta Enogen. "Syngenta contributed a nice check – $225,000 for the effort, and they'll have two more installments," said Defenbaugh. The company will be contributing $1 for every acre planted with Enogen corn enzyme technology, which they expect to ultimately total about $600,000.
Listen to Ray explain more about Prime the Pump in this interview: Interview with Prime the Pump chair Ray Defenbaugh