During the American Ethanol E15 250 presented by Enogen race weekend, racing writers and photographers gathered for a media briefing held by the ethanol industry to learn more about the high-octane green fuel that is powering the NASCAR race cars around tracks like the Iowa Speedway. One of those reporters was our own Chuck Zimmerman who sat down with Chris Tingle, head of marketing for Enogen with Syngenta, who said its great to be a partner with Growth Energy and the Iowa Speedway to bring ethanol to the consumer.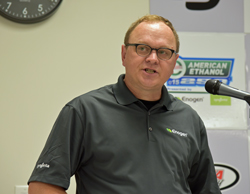 Chuck asked him what message did he want the media to take away with them?
Tingle replied, "When you really think about, ethanol started with moonshine and moonshine started NASCAR so we're all really related in the circle of evolution. But I think as we've progressed as a society, we've failed to realize the benefits of products like ethanol. So we're here to partner, to bring flexibility not only to ethanol but also around E15, and to get that technology to consumers through supporting the flex fuel pump program that helps get infrastructure in place for consumers. We're also highlighting all the technologies we have around the ethanol space in which Syngenta is a pioneer in the industry bringing products like Enogen, partnering with Quad County Corn Processors with technologies like Cellerate, just showing our sustainability commitment to ethanol."
Tingle stressed that one of the greatest benefits of ethanol, other than saving consumers money at the pump with a higher octane fuel, is the benefits to rural America where the ethanol facilities are in operation and the farmers are growing food, feed and fiber from crops such as corn.
"Corn growers were very innovative and smart many years ago in really investing and supporting the ethanol industry and getting it off the ground as a market for their corn," Tingle explained. "And the result of that today is roughly 40 percent of the corn grown in the U.S. is going into an ethanol plant while 2/3 of this corn comes back out as dried distillers grains [DDGs] for the feed industry. So we've got two sustainable industries out there – one for the corn farmer and one for the animal producer using the dried distillers grains." He noted that these ethanol plants and farms are located in rural economies providing jobs where community members spend their paychecks in local businesses.
"So Syngenta is really proud to support the ethanol industry," added Tingle. "We bring products to help make it more sustainable and helping our growers stay in business. In 2016 alone we're going to have put almost $26 million dollars in grower premiums back into the rural economies of our Enogen growers."
To learn more about Syngenta's commitment to the ethanol industry and corn farmers listen to Chuck's interview with Chris Tingle here: Interview with Chris Tingle, Enogen-Syngenta
You can find lots of photos from Iowa Speedway race weekend here: Enogen Syngenta NASCAR Photo Album