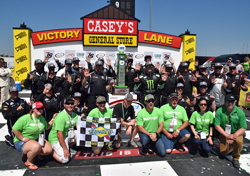 The winner of Sunday's American Ethanol E15 250 NASCAR Infity Race presented by Enogen is Sam Hornish, Jr. He's pictured in the winner's circle with his team and the Syngenta Enogen team. So congratulations to him and all the drivers who once again raced on an E15 blend of fuel.
Prior to the race Syngenta Enogen hosted a large number of farmers and other customers to the race and they received a special visit from Justin Allgaier, driver of the Brandt car. I spoke with Justin at the hospitality tent and you can watch the whole interview below.
Justin is a great advocate for American agriculture and not just because of his sponsor. He says, "Our agriculture industry is really what drives this whole nation." He says he has even raced some cars that run on 90% ethanol! He knows there are a lot of misconceptions about ethanol and he's glad to have the opportunity to help educate people about it.
You can find lots of photos from Iowa Speedway race weekend here: Enogen Syngenta NASCAR Photo Album