The American Ethanol E15 250 presented by Enogen is set to hit the track this weekend at Iowa Speedway in Newton. The race, where all drivers compete using E15, a 15 percent ethanol blend, leaves the starting line on Sunday, June 19 at 12:30 pm CT. The NASCAR XFINITY Series race is part of Wide Opening Weekend at the speedway and this is the fifth consecutive year that American Ethanol and Enogen have sponsored the race. To get the scoop on events this weekend, I was able to speak with Chris Tingle, head of marketing for Enogen at Syngenta via Skpye.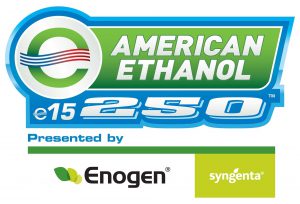 He said that this race in particular, but the series in general, has had a great effect on getting the benefits of ethanol in front of consumers. The race is also a great way to mingle with growers who use Enogen corn or are considering making the switch to the technology that is specifically designed for ethanol production. For those attending the race, if you look outside the gate as you enter the track they will have a tailgating tent with beverages, snacks and prizes. They will have a second area set up inside the track as well.
Tingle explains that when planting the Enogen trait, not only does the grower see some positive benefits, like less use of water among others, when it is used in the ethanol production process, the Enogen corn serves as the enzyme, thus eliminating the need to add a separate enzyme to the process. This reduces costs while increasing efficiency and ultimately for the ethanol producer, saves money. "it's a win, win, win," says Tingle.
Syngenta has always been committed to growers and since the explosion of the ethanol industry, the company has been a champion of support. Tingle says that they created a program where they donated $1 for every acre planted with Enogen corn enzyme technology. Over the past several years, more than $600,000 has been donated to the Prime the Pump program that assists retailers install infrastructure to see higher blends of ethanol. Checks as part of the program were presented at previous races. In addition there will be an announcement on another ethanol-Enogen program during the race.
"Syngenta is committed beyond our product. We see the ethanol industry as a needed market for U.S. corn growers. Literally 35-40 percent of corn grown in the U.S. goes to ethanol and if we don't support and sustain the industry, we just lost a market opportunity for growers and the ethanol industry is general, says Tingle.
To learn more about Syngenta's sponsorship, the American Ethanol E15 250 presented by Enogen and what to expect this weekend, and more about Enogen, listen to my interview with Chris Tingle:
Prerace Interview with Chris Tingle, Enogen