American Ethanol is racing in the Lone Star State this week and team spokesman Austin Dillion is closing in on a championship. Ethanol supporters and NASCAR fans will be heading to Texas to cheer on their driver and interact with fans about ethanol.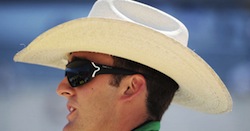 Dillon is known for his signature cowboy hat, but he wouldn't mind trading in his hat for a new one at Texas Motor Speedway on Saturday. Because what else would they give you as a trophy in Texas except a cowboy hat and a boot trophy? Dillon, who has never finished outside the Top 10 at Texas Motor Speedway in NASCAR Nationwide Series competition, currently leads the series standings by eight points over Sam Hornish Jr. As in other races, he will display the American Ethanol logo on the side of his car.
Corn farmers from Texas, Minnesota and North Dakota will also be on hand to distribute American Ethanol green starter flags throughout the campgrounds; more than 2,500 flags will be distributed over the course of the weekend. This weekend marks the largest activation for the American Ethanol brand in 2013, and the final one for the season.
A fan exhibit is also planned on the midway. The centerpiece for the exhibit will be a mobile biofuels education unit that will allow fans to learn more about how ethanol is made to provide consumer fuel and Sunoco Green E15 for NASCAR. This weekend the American Ethanol exhibit will be adding a new educational piece, a graphic that shows all of the toxic and in some cases carcinogenic, substances in modern gasoline. The visual carries a clear message that consumers need to know; "Some Fuels are Greener Than Others."
The NASCAR Nationwide Series O'Reilly Auto Parts Challenge at Texas Motor Speedway starts at 3:30 p.m. EDT Saturday, November 2 and will be aired on ESPN2. The NASCAR Sprint Cup Series AAA Texas 500 at Texas Motor Speedway starts at 3 p.m. EDT Sunday, November 3 and will be aired on ESPN.