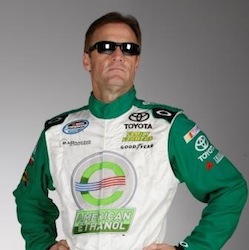 NASCAR driver Kenny Wallace will be making his 900th NASCAR start at Chicagoland Speedway on Saturday, September 13, 2014  in the Dollar General 300. Joining the "900 Club", Wallace will be among an elite group of drivers that includes Richard Petty, Ricky Rudd, Terry Labonte, Mark Martin, Darrell Waltrip, Bobby Labonte, Jeff Burton, Dale Earnhardt and Dale Jarrett.
Wallace will be behind the wheel of the RAB Racing No. 29 ToyotaCare, American Ethanol Toyota Camry, in a special paint scheme to commemorate the NASCAR milestone. Wallace currently sits at 898 NASCAR starts, but will also compete in the Camping World Truck Series race at Chicagoland Speedway in the No. 81 SS Green Light American Ethanol Toyota Tundra on Friday night, thanks to Illinois farmers and the Illinois Corn Marketing Board.
To put into perspective the achievement of 900 NASCAR starts over his 24-year career, Wallace has traveled more than 276,000 miles across the Sprint Cup, Nationwide, and Camping World Truck Series, garnering nine wins, 75 top five finishes, 204 top 10 finishes, and an astonishing 198,164 completed laps. Wallace has also been named the Nationwide Series Most Popular Driver three times in his career.
"Wow, 900 NASCAR starts means a lot to me," said Kenny Wallace. "It means I've been able to stay in the game a long time, it means I mattered to the sport, and it means that people cared enough to keep me in the sport. I've dreamed about racing since I was a kid and to be able to achieve 900 starts is a dream come true and I'm thankful to have so many great people and corporate partners apart of my life along the way. Toyota and American Ethanol have given something that no one can buy; they care about me getting to my goal of 900 starts."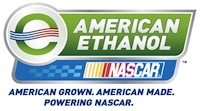 "Besides the thrill of racing they've given me life experiences which I'm equally thankful for," continued Wallace. "With American Ethanol, they've given me the chance to meet all the American farmers who've grown the corn to supply our race cars, and go around the country and educate people on the benefits of American Ethanol. I've been on farms, I've learned to drive a combine, I've driven tractors, I've gone into ethanol plants, I've made friends with all these farmers across the country and all those things I would have never been able to experience without the help of American Ethanol."
"For that, I thank everyone at Toyota and American Ethanol for giving me this terrific ride outside of the race track, I could have never dreamed about having," concluded Wallace.
Jon Holzfaster, a Nebraska farmer and American Ethanol spokesman added, "It has taken boundless energy and drive to reach this remarkable milestone of 900 races. Kenny has devoted the same tireless approach to building the American Ethanol brand and showcasing the important contributions family farmers and the ethanol industry make to our country. He has our admiration for what he has accomplished in the sport and our appreciation for all he has done for American Ethanol."