Bristol Motor Speedway will see a familiar face and a familiar brand Saturday for the Food City 250, as American Ethanol again joins forces with veteran driver Kenny Wallace. Wallace climbs back behind the wheel of the No. 29 RAB Racing American Ethanol Toyota Camry.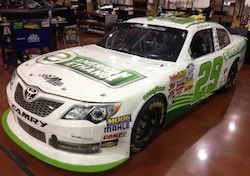 "I'm so excited to be going to Bristol Motor Speedway, the ultimate short track, for grassroots racing just like I grew up on. The night race at Bristol is absolutely electrifying, and I'm really excited to be a part of it and looking forward to showing off our new American Ethanol paint scheme," said Wallace. "It's been almost a full year since I've raced an American Ethanol Camry, and I'm so happy to be debuting a brand new paint scheme for them on a very special day for me, my 50th birthday."
Wallace, a veteran of the .533-mile oval, has not only won at "Thunder Valley", but has finished in the top ten in half of his Nationwide Series starts (18 of 36). Additionally, Wallace has two top-ten finishes and two laps led in Sprint Cup Series competition at Bristol Motor Speedway.
"We (NASCAR drivers) have driven more than four million miles on American Ethanol. It's been well accepted in the sport because it works. The transition was easy. We got more power and better performance," said Wallace. "Unlike imported oil, ethanol is good for our economy and creates jobs in America both in ethanol plants and on family farms."
This will mark the first NASCAR Nationwide Series race in 2013 that American Ethanol will be the primary sponsor on the No. 29 of Kenny Wallace, with RAB Racing. This will also be Wallace's 897th NASCAR start.
"Away from the track Kenny is an outspoken advocate for American Ethanol and family farmers," said Jon Holzfaster, a Paxton, Neb. farmer and chairman of the National Corn Growers Association's NASCAR Advisory Committee. "He is a fan favorite and has played a big role in building fan support for ethanol within the sport. Today, NASCAR fans are 50 percent more likely than non-fans to support the use of ethanol in their own cars."