The first student winners of the PowerBridgeNY awards have been announced by New York Governor Andrew M. Cuomo. The recently established Proof-of-Concept Center aids clean energy ideas move from the laboratory to commercial product. These awards continue to support the development of New York's cleantech economy to create jobs and businesses focused on emerging clean-energy technologies.
"New York is taking a leading role in supporting the development of cleantech products that are environmentally friendly, reduce energy use and increase reliability of the State's energy systems," said Governor Cuomo. "When the best and brightest cleantech researchers in New York State have the opportunity to collaborate with smart, experienced experts in the private sector, the result can be a powerful force for economic development resulting in a cleaner, greener, more sustainable state for future generations."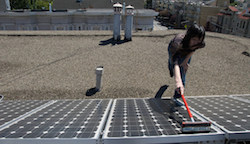 PowerBridgeNY was created by Columbia University and New York University Polytechnic School of Engineering, leading a consortium of public research institutions throughout the State, and is partially funded by the New York State Energy Research and Development Authority (NYSERDA). The winners, who were awarded up to $150,000, are working on products with the potential to reduce wastewater treatment costs, increase energy efficiency of solar panels, reduce electricity outages, decrease the cost of fuel cells, absorb carbon dioxide.
"The funding announced today will help these scientists, researchers and entrepreneurs move their innovative technology closer to market-readiness as they tackle technical clean-energy issues," said John B. Rhodes, President and CEO, NYSERDA. "Thanks to Governor Cuomo's support, the proof-of-concept centers are advancing cleantech innovation in New York State, growing new companies and commercializing the next generation of products that will help reduce the State's energy use."
Businesses were judged on the products' technical potential, the potential appeal to investors and how the scientists could benefit by taking part in this program. Continue reading →