Volkswagen of America, Inc. is continuing to roll out plans for its holistic approach to e-mobility. Beginning with the launch of the zero-tailpipe emissions 2015 e-Golf model later this year, Volkswagen will invest in carbon reduction projects to offset emissions created from e-Golf production, distribution and up to approximately 36,000 miles of driving. Volkswagen also named SunPower as the official solar energy partner power provider. Volkswagen believes they will be one of the first high-volume manufacturers to deliver a truly holistic approach to ultra-low-carbon mobility.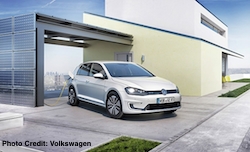 To help determine its carbon offset projects, Volkswagen has teamed with 3Degrees, a renewable energy and carbon offset services provider. By investing in carbon reduction programs, Volkswagen said they will offset the e-Golf's greenhouse gas (GHG) emissions that result from its production, distribution and from the estimated emissions produced from keeping the vehicle charged through the initial 36,000 miles of the vehicle's life. Volkswagen of America chose to include carbon reduction efforts in California and in Texas with projects geared towards forestry conservation and landfill gas capture.
"Volkswagen feels it is important to look beyond the benefits of driving a vehicle without tailpipe emissions and to take a holistic approach to e-mobility," said Oliver Schmidt, general manager, Environment and Engineering Office, Volkswagen Group of America. "We now have the ability to offer offsets that approximate the emissions created from production, distribution and the initial 36,000 miles of use."
Volkswagen-supported projects included the Garcia River Conservation-Based Forest Management Project, located in Mendocino County, Calif., to protects and preserves a 24,000-acre native redwood forest, increasing carbon sequestration and storage, while also helping to restore the natural wildlife habitat. The company is also supporting the Big River and Salmon Creek Forests, located in Mendocino County, California, and the McKinney Landfill project, based at a closed landfill in McKinney, Texas.
"Volkswagen is showing leadership by including carbon offsets standard with this e-Golf electric vehicle," added Steve McDougal, President of 3Degrees. "As more people choose low and no emission cars, Volkswagen is making it possible – and easy – to think comprehensively about the greenhouse gas emissions profile of a vehicle."