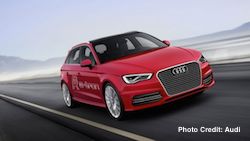 Audi of America has announced the launch of a new program: Audi energy. The program is designed to improve the electric vehicle ownership experience as well as reduce the carbon footprint that comes with vehicle production, distribution and driving. Ultimately, the program will produce a new plug in hybrid vehicle – the Audi A3 Sportback e-tron – estimated to be available in the U.S. in mid 2015.
The program has three elements associated with the A3 e-etron:
At-home Audi-designed Level 2 charging developed with Bosch Automotive Service Solutions;
Audi will purchase carbon offset certificates in California and Africa to offset GHG emissions; and
Sunpower will provide optional home solar power system for Audi owners including a new home energy storage solution to capture additional solar energy.
"The Audi A3 Sportback e-tron will offer drivers an eco-conscious vehicle ownership experience," said Wayne Killen, General Manager, Product Strategy and Launch. "Audi energy takes this to the next level with solutions that allow for sustainable fuel driving and a lower carbon footprint. We believe this will be one of the most comprehensive offering in the industry today."