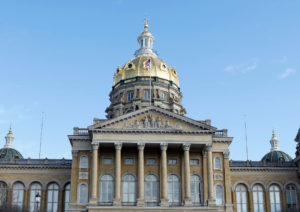 The Iowa House approved a bill last week that would restrict the use of eminent domain by carbon pipeline companies and thereby "create a de facto ban on new projects that allow Iowa ethanol producers to install carbon capture and sequestration (CCS) technology," according to the Iowa Renewable Fuels Association (IRFA).
The legislation would require pipeline companies to obtain voluntary easements for 90% of their proposed route before they would be allowed to use eminent domain for the remainder. "This bill will hurt Iowa ethanol production, which hurts Iowa corn prices, which hurts Iowa farmers and the economy," said IRFA Executive Director Monte Shaw. "IRFA will continue to fight for a fair and equitable path forward for CCS technology in the Iowa Senate."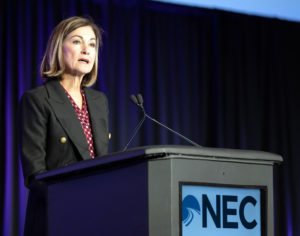 Iowa Governor Kim Reynolds commented on the carbon pipeline issue during a press availability earlier this month at the National Ethanol Conference in Orlando, noting that she had to be careful what she said.
"We have legislation going through the chamber so I have to be careful about how I comment, it's been my policy not to weigh in to existing legislation," said Reynolds. "But I've made it very clear there are laws on the books, eminent domain should be used as a last resort. Landowners should be compensated well."
Reynolds said she believes carbon capture and sequestration is "the future of ethanol so it's extremely important" and that as governor, her "role is to add value to what we do and ethanol and biofuels is a big component for that."
Listen to Reynolds' comments here:
Gov. Reynolds comments on carbon pipelines (2:05)