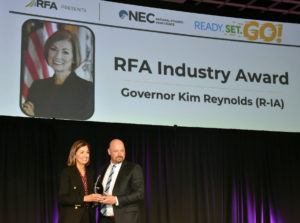 A well-deserved award was presented during the National Ethanol Conference in Orlando by the Renewable Fuels Association this week to Iowa Governor Kim Reynolds for her untiring efforts on behalf of the entire ethanol industry. The award was presented the day after a major victory for the governor in the proposed rule from EPA that will allow her state and seven others to sell E15 ethanol fuel year-round starting in 2024.
Reynolds said she was thrilled that the EPA has approved the multi-state bipartisan RVP waiver request that will pave the way for year-round E15 and bring certainty to the industry, but the delay in implementation is unacceptable.
"This arbitrary deadline is unacceptable and disappointing, but hardly surprising and we won't accept it without a fight. I'm requesting another emergency waiver to this year while at the same time asking the courts to require the Administration to grant our request immediately. I've also requested a meeting with President Biden to discuss the critical timeliness of the waiver." she said.
Listen to the Governor's remarks and press availability below:
RFANEC23 Gov. Kim Reynolds award (11:32)
RFANEC23 Gov. Reynolds press
(19:42)
Click here for more audio and photos from the National Ethanol Conference.