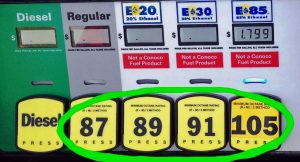 Sens. Chuck Grassley (R-IA), Joni Ernst (R-IA), Amy Klobuchar (D-MN) and Tammy Duckworth (D-IL) joined together Tuesday to introduce the bipartisan and bicameral Next Generation Fuels Act, which aims to leverage higher-octane fuels to improve engine efficiency and performance. Allowing the sale of fuels with greater octane levels would increase the amount of ethanol that can be utilized in the fuel supply, in turn lowering prices at the pump for consumers.
Similar legislation has been introduced in the U.S. House by Rep. Cheri Bustos (D-IL) with broad bipartisan co-sponsorship. This legislation establishes a minimum research octane number (RON) standard of 98 for gasoline, which is higher than the typical octane rating of 91 RON today. It also requires sources of the added octane value to reduce carbon emissions by at least 40 percent compared to baseline gasoline.
"The Next Generation Fuels Act would gradually ramp up the use of homegrown ethanol at gas stations across the country, making Americans less reliant on foreign oil and less vulnerable to the anti-competitive tactics of OPEC. As we look to the future of liquid fuels, this legislation can play a critical role in restoring energy independence, saving consumers money, lowering carbon emissions and expanding the market for farmers and ethanol producers," Grassley said.
Sen. Grassley talked about the bill during his Tuesday call with agricultural reporters.
Grassley - Next Gen Fuels Act (2:16)
Farm and biofuels organizations thanked the senators for introducing the bill.
"This summer's geopolitical instability, record-high gas prices, and more frequent natural disasters all underscore the need for real and immediate energy solutions for American families. This bill provides those sensible solutions, and we look forward to working with clean fuel supporters in both chambers of Congress to turn this bold vision into a reality," said Renewable Fuels Association president and CEO Geoff Cooper.
"We have worked closely with members of the House and Senate to secure bipartisan support for this legislation," National Corn Growers Association president Chris Edgington said. "In recent months, consumers have been reminded that we need choices at the pump. The Next Generation Fuels Act would diversify our fuel supply and take greater advantage of low-cost, low-emission, and high-efficiency ethanol to give drivers affordable choices as we decarbonize and clean up transportation."