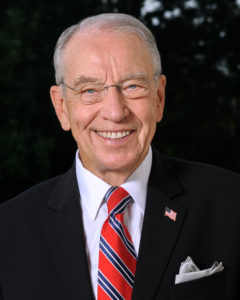 Sen. Chuck Grassley (R-IA) and several of his Senate colleagues sent a letter this week to Secretary of Agriculture Tom Vilsack asking him to explain the delay in delivering financial assistance to biofuels producers negatively impacted by the COVID-19 pandemic.
In June 2021, the U.S. Department of Agriculture (USDA) announced $700 million in aid to biofuel producers as part of the USDA Pandemic Assistance for Producers initiative. USDA's press release indicated that this assistance would be implemented within 60 days. Now, more than 120 days later, biofuel producers are still waiting.
Grassley was joined in the letter by fellow Republicans Joni Ernst of Iowa, Jerry Moran and Roger Marshall of Kansas, Deb Fischer and Ben Sasse of Nebraska, and John Thune of South Dakota.
"There's no excuse, the money ought to be out, it's allocated by Congress," said Grassley during a call with reporters on Tuesday morning. "But if there is an excuse I haven't heard an excuse."
Early last month, Secretary Vilsack said biofuels producers should see those payments "very soon." Sen. Grassley said while he has not spoken with Vilsack recently, he is confident in the secretary's support of ethanol.
Sen. Grassley on COVID payments for biofuels
(1:05)
Sen. Grassley stressed the need for President Biden to support biofuels and the Renewable Fuel Standard during a speech on the Senate floor Monday. "The media has reported the White House has been in discussion with Big Oil regarding rising fuel prices," said Grassley. "A common-sense solution would be to turn to the biofuel industry for assistance during this time."
Sen. Grassley floor speech 10-18
(5:53)