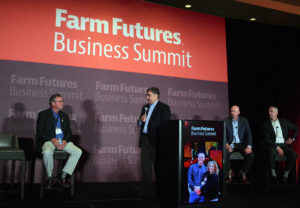 The Farm Futures Business Summit being held this week in Iowa featured corn farmers and ethanol industry leaders on the first day of the program to shed light on the future of ethanol.
The National Corn Growers Association (NCGA) sponsored the panel with Iowa corn farmer and NCGA Ethanol Action Team (ETHAT) member Kelly Nieuwenhuis, Renewable Fuels Association President and CEO Geoff Cooper, and Growth Energy Senior Vice President Mike Lorenz.
Nieuwenhuis discussed the importance of the ethanol industry to corn farmers and why he's optimistic about the future of biofuels. "We're working on a lot of great initiatives with our partners in the ethanol industry that people should be excited about," Nieuwenhuis said. "Our work on pump infrastructure with Wayne Fueling Systems, engine testing at the University of California at Riverside with the California Air Resources Board (CARB) to show the environmental benefits and compatibility of E15, and work on the Next Generation Fuels Act are just a few of the things we're working on to grow the ethanol market."
The event was a hybrid event with more than 200 farmers in attendance.