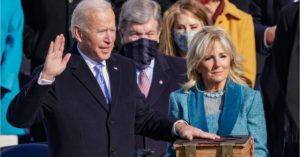 Now that President Biden has been sworn in, the Renewable Fuels Association has a way the new administration can immediately cut carbon emissions by 12 million metric tons.
RFA recently released an analysis that shows President Biden could cut 10.7 million metric tons of greenhouse gas (GHG) reductions simply by rejecting the 66 pending waiver requests from oil refiners who are looking to dodge their Renewable Fuel Standard (RFS) obligations, including the three last minute waivers granted by the exiting administration Tuesday. In addition, another 1.2 million metric tons of GHG reductions can be achieved by finally implementing a 2017 court order to restore renewable fuel blending requirements that were illegally waived by EPA in 2016.
According to the RFA report, the GHG reductions associated with these actions would be equivalent to removing 2.6 million gasoline-powered passenger vehicles from the road, eliminating the annual emissions from three coal-fired power plants, or replacing 3.7 million gasoline-powered passenger vehicles with battery electric vehicles.
RFA Chief Economist Scott Richman talks about the analysis in this interview.
Interview with RFA economist Scott Richman (10:26)