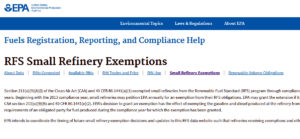 At an agricultural event last week, EPA Administrator Andrew Wheeler said he would not resign from the Trump Administration before the inauguration because he believed it was important for him to stay on "in the best interests of the agency, in order to ensure a smooth transition to my successors." On his way out the door on Tuesday, Wheeler gave a last minute gift to the oil industry, granting two 2019 small refinery exemptions (SRE), and apparently reversing a 2018 petition that was initially denied. The three waivers amount to 260 million gallons of renewable fuel demand.
Renewable Fuels Association President and CEO Geoff Cooper said they will legally challenge EPA's "unconscionable and unlawful decision" to grant the waivers. "With just hours remaining in his shameful term as EPA Administrator, Andrew Wheeler couldn't stop himself from doling out a few more Clean Air Act compliance exemptions to his well-connected friends. But the fact remains that today's action by EPA is completely without legal merit. It flouts both the statute and recent court decisions that clearly limit EPA's authority and ability to grant these exemptions. And while this action comes as one last sucker punch from the Trump administration, we are confident it will be a hollow victory for the politically connected oil companies receiving today's waivers, as the new Biden Administration will most certainly act quickly to restore the volumes erased by these waivers."
Despite Wheeler's comments last week in Mississippi about how important agriculture was to this administration, National Corn Growers Association (NCGA) President John Linder says this final action hurts farmers. "It shouldn't be a surprise to those who have been paying attention for the last four years that this EPA would undermine corn farmers and the ethanol market on its way out the door. There is no reason for the EPA to take this action now, especially with the Supreme Court set to consider the Tenth Circuit ruling in the new term. Corn farmers need an EPA that will follow the law as written and intended by Congress. NCGA looks forward to working with the Biden Administration to rectify the harm caused by this EPA's abuse of small refinery exemptions and restore the integrity of the Renewable Fuel Standard."
National Biodiesel Board (NBB) Vice President of Federal Affairs Kurt Kovarik said, "EPA's last-minute gifts to oil refiners come at the direct expense of biodiesel and renewable diesel producers. This disappointing action further undermines the integrity of the Renewable Fuel Standard program by destroying demand for additional gallons of biofuel."
The topic of what to do in the event EPA did grant last minute small refinery waivers was brought up in a panel discussion today at the virtual National Biodiesel Conference. Doug Hastings with Morgan Lewis, the firm representing NBB in federal district court and administrative rulemakings related to the RFS, said challenging the exemptions might be tricky if the refiners argue that once a waiver is granted it can't be taken back.
Listen to Hastings comments here:
2021 Biodiesel Conference - Doug Hastings, Morgan Lewis (:50)