Tom Vilsack has officially been nominated to serve as Secretary of Agriculture in the Biden Administration, reprising the role he held under President Obama for eight years, and the biofuels industry is quite happy with that decision.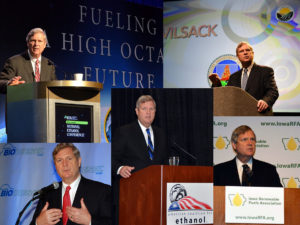 Renewable Fuels Association President and CEO Geoff Cooper says Vilsack is an excellent choice. "We are especially happy to have someone in the Biden administration who intimately understands the crucial role renewable fuels and agriculture can play in confronting climate change. We thank the president-elect and look forward to working once again with the new secretary once he takes office."
During his time as Secretary, Vilsack frequently attended the major agricultural and biofuels events, including the National Ethanol Conference, National Biodiesel Conference, Commodity Classic, ACE Annual Meeting, and the Iowa Renewable Fuels Summit.
American Coalition for Ethanol (ACE) CEO Brian Jennings says Vilsack will be able to hit the ground running. "Secretary Vilsack was the most effective advocate the biofuels industry had in the Obama administration and we are excited about working with him again, particularly with helping get the RFS back on track, continued infrastructure support for higher ethanol blends, and making sure farmers and biofuel producers are part of the solution to future policies designed to tackle climate change."
National Corn Growers Association President John Linder says corn farmers always appreciated Vilsack's "willingness to listen to the input from growers across the country and his steadfast commitment to agriculture, renewable fuels, our environment and USDA's food and nutrition programs."
Iowa RFA Executive Director Monte Shaw says, as an Iowan, Vilsack knows first-hand the importance of a strong biofuels industry. "He has stood up for the RFS and expanded exports. And Secretary Vilsack has created innovative solutions like the Biofuels Infrastructure Program that really began the growth of E15 availability."
National Biodiesel Board VP of Federal Affairs Kurt Kovarik says Tom Vilsack has a long and distinguished record of advocating for America's farmers and biofuel producers and they look forward to "continuing a strong, productive relationship with USDA to expand markets and infrastructure for biodiesel." Iowa Biodiesel Board Executive Director Grant Kimberley adds, "In particular, we look forward to Vilsack's steady voice as he interacts with new leadership at the Environmental Protection Agency. We know we can count on him to help get the RFS back on track, and reinforce the benefits of growing biodiesel demand."