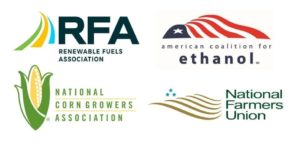 Ethanol supporters are encouraged by news this morning that President Donald Trump has directed EPA to deny retroactive refinery exemptions, as he promised Sen. Joni Ernst of Iowa that he would.
The Renewable Fuels Association (RFA), National Corn Growers Association (NCGA), National Farmers Union (NFU) and American Coalition for Ethanol (ACE) released a statement welcoming the news that petitions intended to circumvent the Tenth Circuit Court's decision on waivers might be denied.
"We are encouraged by reports that President Trump has called upon EPA to reject these absurd gap-year waiver petitions out of hand. If the reports are accurate, it is our hope that EPA swiftly acts upon the President's directive and closes the door once and for all on the refiners' brazen attempt to rewrite history."
During a briefing on storm damage in Iowa last month, Sen. Ernst (R-IA) specifically asked the president about retroactive small refinery exemptions for previous years and the need for EPA to follow the intent of the Renewable Fuel Standard (RFS). President Trump replied, "We'll speak to them. I'll do it myself."
At the same time, the four petitioners in the successful Tenth Circuit Court case are disappointed that CVR Refining and HollyFrontier Corporation filed a last minute request for the U.S. Supreme Court to review the Tenth Circuit Court's ruling. The decision in question overturned three improperly granted small refinery exemptions under the Renewable Fuel Standard (RFS).