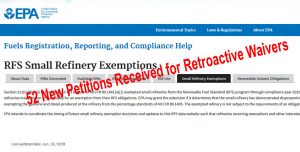 The newly updated EPA Small Refinery Exemptions dashboard has revealed that 52 new petitions have been received from small refineries seeking retroactive exemptions from their Renewable Fuel Standard requirements in prior years dating back to 2011.
According to the Renewable Fuels Association, refiners are filing these "gap year" waiver petitions as a way around the recent Tenth Circuit Court decision that overturned three exemptions and set a precedent for significantly curtailing the waivers going forward.
Now, in a brazen attempt to get around the court decision, refiners are requesting exemptions for past years so that they may claim they are eligible for future waivers because their exemption was "continuously extended" by EPA. RFA first exposed the "gap year" plot in a letter to Administrator Wheeler on May 22, and called on EPA to reject the secretive waiver requests outright. The Tenth Circuit petitioners—RFA, NCGA, NFU and ACE—and other groups sent another letter to EPA later, requesting specific information about the "gap year" petitions.
RFA President and CEO Geoff Cooper addressed the issue of waivers during a House Biofuels Caucus town hall meeting Wednesday, saying that it is more critical than ever that EPA enforce the Renewable Fuel Standard (RFS).
RFA CEO Geoff Cooper remarks on waivers 2:03

On a press call after the town hall, Cooper said if EPA refuses to follow the court decision, the industry will have to respond.
Cooper on fighting gap year waivers :40

National Corn Growers Association CEO Jon Doggett, also on the town hall meeting, explained how significantly those waivers have impacted corn farmers.
NCGA CEO Jon Doggett remarks on waivers 1:49