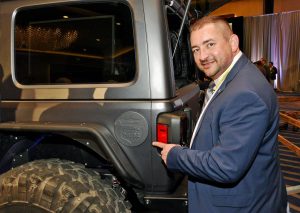 National Corn Growers Association (NCGA) president and Iowa farmer Kevin Ross had the chance last week to attend the National Ethanol Conference and celebrate recent wins with the industry, like the recent Tenth Circuit court decision.
"Just a fabulous result for us and everybody in the industry," said Ross during an interview last week at the National Ethanol Conference. "And moving forward, they're going to have to adjust the way they're administering the SRE program."
NCGA was one of the parties in the lawsuit over Environmental Protection Agency's small refinery exemption (SRE) program under the Renewable Fuel Standard along with the Renewable Fuels Association (RFA), American Coalition for Ethanol (ACE) and National Farmers Union.
Ross has been busy the past few months with multiple trips to the White House to celebrate trade deals, most recently a White House ceremony last month commemorating the signing of the phase one deal between the United States and China. "One of the biggest pieces for corn is really the biotech portion of the China deal," said Ross. Another big piece of the deal would be increased access to the Chinese market for U.S. ethanol.
Ross discusses these topics and gives a preview of Commodity Classic in this interview, and below watch him get a tour of the RFA custom designed Flex Fuel Jeep Wrangler on display at NEC:
RFANEC Interview with NCGA president Kevin Ross, Iowa 5:43

2020 National Ethanol Conference photo album
Kenny Hauk, Hauk Designs, talks about custom built Jeep that runs on E85: