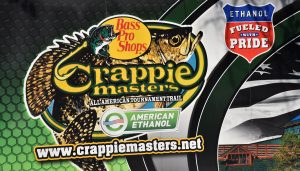 The Renewable Fuels Association and the National Corn Growers Association have signed on for the fourth year as co-title sponsors of the Crappie Masters Tournament Trail. The first tournament begins Friday, Jan. 31 at St. Johns River in Deland, Fla.
This year, the competition is bigger than ever and includes state-level tournament trails in Oklahoma, Kentucky, Missouri, Kansas, Iowa, Florida, Arkansas, Alabama, West Tennessee and North and South Louisiana.
"We are looking forward to another great year on the water with an expanded schedule of tournaments," said RFA Vice President of Industry Relations Robert White. "This national partnership with Crappie Masters helps more anglers and boaters learn about the benefits of high-octane, low-carbon ethanol—a fuel that's cleaner and cheaper, and that has proven its value on the tournament trail for years."
Interview with Robert White, RFA, on 2020 Crappie Masters
(4:06)
Crappie Masters Television will also highlight each tournament. The weekly show can be found on the Pursuit Channel, which is on DIRECTV 604, Dish Network 393, Verizon, CenturyLink and Roku.
The next Crappie Masters Tournament Trail event is Feb. 28-29 at Lake D'Arbonne in Gadsden County, Fla. The 2020 Crappie Masters Tournament Trail season runs through Sept. 26. A full schedule is available here.