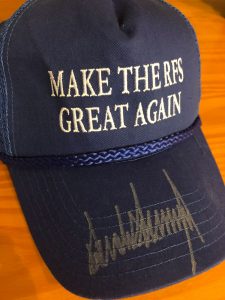 A broad coalition of biofuel and farm advocates today sent a letter to the White House calling on President Trump to uphold his commitment to accurately account for refinery waivers and support the Renewable Fuel Standard (RFS).
The letter was signed by 60 organizations, including ethanol, biodiesel, corn and soybean groups on the state and national level.
"Mr. President, we share a common vision regarding the RFS. We want to reopen biofuel plants and restore demand for America's farm products. We are asking for SRE accountability based on a rolling average of the actual volumes exempted by the EPA during the three most recently completed compliance years. This simple fix will provide the market and regulatory certainty necessary to bring back rural jobs and restore demand. The proposal – as written – will not provide the relief we believe you are seeking," the groups wrote.
National Corn Growers Association (NCGA) Ethanol Action Team member and Minnesota farmer Brian Thalmann testified on behalf of the corn farmers last week gave the same message to EPA regarding the agency's inadequate proposal that would account for waivers based on Department of Energy's (DOE) recommendations, rather than the actual gallons waived by EPA. "I have a simple message – when it comes the Renewable Fuel Standard, we need EPA to follow the law. As farmers, we follow rules put in place by state and federal agencies, including the EPA. We are simply asking EPA to do the same for us," Thalmann said.
Listen to Thalmann's testimony here:
EPA Hearing Thalmann Testimony