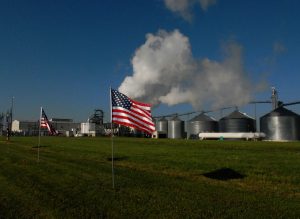 Ethanol producers and corn farmers held a telephone press conference Wednesday to spotlight recent research on the impacts of ethanol plant closings, a new survey on voter attitudes about ethanol, and a potential White House agreement to promote further renewable fuels use.
The main message from Renewable Fuels Association President and CEO Geoff Cooper, new National Corn Growers Association President Kevin Ross, and others on the call, is that they need to see the EPA do something to account for gallons lost to small refinery exemptions, as required under the law.
Commenting on news reports this week that the administration is close to making an announcement on a package to help, Cooper said it can't come soon enough. "Each day that passes without a resolution is one step closer to the abyss" for farmers and ethanol plants. He talked about 18 plants that have closed permanently or temporarily recently and how that impacts the community.
RFA Chairman Neil Koehler with Pacific Ethanol, which has shut down one of its plants, says he has been in the ethanol business for 35 years. "This is the worst year we have ever experienced," and it is the direct result of EPA granting the small refinery exemptions without redistributing those gallons.
"We are not asking for anything other than for EPA to uphold the RFS," said Ross. "This issue has certainly hurt a lot of markets for farmers and created more of an issue going into a fall where we need markets opened up and we need crops to move."
Also on the call were farmer Brian Thalmann, immediate past president of Minnesota Corn Growers, and Al-Corn Clean Fuel CEO Randy Doyal.
Listen to opening remarks:
RFA call on ethanol industry issues