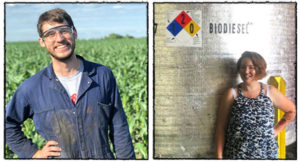 The Next Generation Scientists for Biodiesel (NGSB) program has selected students from Iowa State and National University as new co-chairs.
Sam Kramer is a chemical engineering and economics undergraduate at ISU, who helped get the school's unique "BioBus" program going again after a long hiatus. "The world needs more capable and caring engineers," Kramer said. "Programs like NGSB and our ISU BioBus Club spark interest in renewable energy and give young engineering students hands-on experience."
Kayla Tilton is pursuing a Master of Public Health degree through National University in San Diego and also working as a student as an outreach coordinator for Maine Standard Biofuels. "I love watching people make the decision to switch to heating their homes with a 20 percent blend of biodiesel [Bioheat®], and helping local fleet managers take their Corporate Social Responsibility plan in a whole new direction," Tilton said.
NGSB, a program of the National Biodiesel Board for college-level science students, fosters professional relationships between budding and established scientists, shares accurate information and increases collaboration with academia and the biodiesel industry.