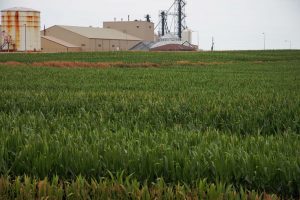 President Trump reportedly held a meeting with his cabinet Monday concerned about backlash from farmers over new small refinery waivers, but an EPA official added fuel to the fire yesterday by saying there was "zero evidence" of demand destruction for ethanol due to the numerous refinery exemptions allowed by the Environmental Protection Agency.
"To suggest that there is 'zero evidence' of ethanol and corn demand destruction from small refinery waivers is as insulting as it is absurd," said Renewable Fuels Association president and CEO Geoff Cooper. "On the same day that EPA made this asinine assertion, two more ethanol plants announced they are idling production. At least 15 ethanol plants have now shut down or idled since EPA began its refiner bailout bonanza last year, and more than 2,500 jobs have already been affected. Ethanol production and demand continue to slide, prices continue to sink, and margins continue to bleed red. Meanwhile, the waivers are eroding corn demand, with USDA cutting its estimate of corn use for ethanol by 225 million bushels—equivalent to erasing demand for the entire Michigan corn crop. Farm bankruptcies and debt are on the rise, and farm income is plunging. Yet, EPA pretends nothing is wrong. Rome is burning, while EPA plays Nero's fiddle."
The nation's largest ethanol producer, POET, announced yesterday that it will idle production at its bioprocessing facility in Cloverdale, Indiana because of the new wave of small refinery exemptions.
POET has reduced production at half of its biorefineries, with the largest drops taking place in Iowa and Ohio. As a result, numerous jobs will be consolidated across POET's 28 biorefineries and corn processing will drop by an additional 100 million bushels across Iowa, Ohio, Michigan, Indiana, Minnesota, South Dakota, and Missouri.
"The Renewable Fuel Standard was designed to increase the use of clean, renewable biofuels and generate grain demand for farmers. Our industry invested billions of dollars based on the belief that oil could not restrict access to the market and EPA would stand behind the intent of the Renewable Fuel Standard. Unfortunately, the oil industry is manipulating the EPA and is now using the RFS to destroy demand for biofuels, reducing the price of commodities and gutting rural economies in the process," said POET Chairman and CEO, Jeff Broin.
The National Corn Growers Association is urging corn farmers and other stakeholders to submit comments by August 30 urging EPA to account for all waived gallons in order to keep the Renewable Fuel Standard (RFS) whole. EPA's 2020 RVO proposal fails to account for projected waivers and ignores a 2017 court decision that EPA improperly cut 500 million gallons of renewable fuels blending in 2016.