As biofuel interests stepped up the pressure on the administration to end Small Refinery Exemptions this week, news reports say President Donald Trump has ordered a review of the policy that has resulted in dozens of waivers in the last two years causing the loss of more than two billion gallons of ethanol demand.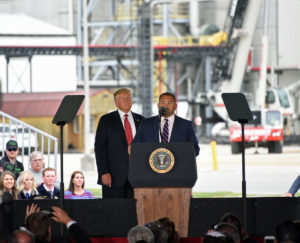 The National Corn Growers Association is airing an advertisement calling on the Environmental Protection Agency (EPA) to follow President Trump's commitment to farmers and stop giving Renewable Fuel Standard (RFS) waivers to big oil companies.
The ad features NCGA First Vice President and Iowa farmer Kevin Ross who recently appeared at an ethanol plant with President Trump in recognition of the Administration's support of year-round E15. During the event, Ross thanked the President for delivering on this promise but cautioned, "The EPA's oil refinery waivers threaten to undo your good works."
Watch the ad below.
[container style="max-width: 480px; margin: 0 auto; float:center;"] [x_video_embed no_container="false"]

[/x_video_embed]
[/container]

Meanwhile, the National Biodiesel Board (NBB) sent a letter this week to EPA Administrator Andrew Wheeler, highlighting the economic damage to the biodiesel and renewable diesel industry caused by the waivers and taking issue with the Administrator's recent comment that the approval of year-round E15 sales will make up for the damage from the exemptions.
"The E15 waiver will not provide market growth for biodiesel and renewable diesel, but small refinery exemptions have had a detrimental impact on demand for those fuels," the letter states. "EPA is required to repair the demand destruction for biodiesel and renewable diesel resulting from the agency's flood of unwarranted, retroactive small refinery exemptions."