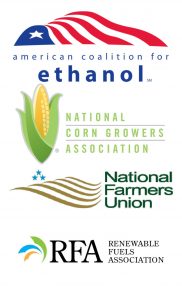 A coalition of farm and ethanol organizations has filed a lawsuit over the Environmental Protection Agency's "secretive small refinery exemptions."
The Renewable Fuels Association (RFA), National Corn Growers Association (NCGA), American Coalition for Ethanol (ACE) and National Farmers Union (NFU), with support of Farmers Union Enterprises, filed the suit late Tuesday in the U.S. Court of Appeals for the 10th Circuit to challenge several waivers from the Renewable Fuel Standard (RFS) EPA granted to profitable refining companies.
The petitioners are challenging three EPA decisions, made under unusually clandestine proceedings, to exempt refineries in Wynnewood, Oklahoma; Cheyenne, Wyoming; and Woods Cross, Utah from the RFS requirements of the Clean Air Act. The Wynnewood refinery is owned by Wynnewood Refining Company, a subsidiary of CVR Energy, and the Cheyenne and Woods Cross refineries are owned by Holly Frontier Corporation. The companies have since estimated in financial disclosures that the exemptions have saved them a collective $170 million in compliance costs.
"America's corn farmers, who are expecting their fifth consecutive year of low commodity prices and who are experiencing the lowest net farm incomes since 2006, understand economic challenges. When refineries are reporting profit increases and repurchasing stock shares, we expect EPA to explain why these refineries were granted exemptions from their RFS volume obligations," says NCGA president Kevin Skunes.
The petition also notes that EPA has consistently rejected all attempts to bring greater transparency to the small refinery exemption extension process. EPA has refused to provide even the most basic information requested in Freedom of Information Act (FOIA) requests from RFA and other parties. More surprisingly, the Agency has also ignored demands from members of Congress for the same essential facts.