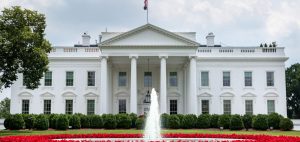 Numerous agricultural and biofuels interests are urging President Trump to help farmers by implementing year-round sales of higher ethanol blends when he meets once again this week with Congressional leaders from farm and oil states at the White House.
The National Corn Growers Association (NCGA), American Farm Bureau Federation, National Farmers Union, American Soybean Association and National Association of Wheat Growers sent a letter to the President expressing concerns about how farmers have been negatively impacted by recent EPA actions in light of the lowest net farm income in over a decade expected this year. They ask the White House to allow sales of E15 all year, halt the abuse of "small refinery exemptions," and uphold a strong RFS, without "further undercutting the RFS, such as imposing a RIN cap, and causing additional harm to the farm economy."
In addition, NCGA and state corn grower associations sent a letter to USDA Secretary Perdue Monday thanking him for his support and asking his help "to continue to advocate for real solutions, such as RVP parity for higher blends, and to continue to highlight the demand destruction caused by EPA's refinery exemptions, as well as how EPA's actions contradict President Trump's commitments."
The Iowa Renewable Fuels Association sent a letter to President Trump on behalf of fuel retailers offering E15 in 11 states asking him to immediately instruct the EPA to follow through on his pledge to allow year-round sales of E15 before summer restrictions begin on June 1st.
The latest White House meeting on the issue is expected to be held Tuesday and once again include Iowa Sens. Chuck Grassley and Joni Ernst on the ethanol side, and Sens. Pat Toomey of Pennsylvania and Ted Cruz of Texas representing the oil industry. The four met with the president in February and again in March along with industry stakeholders.