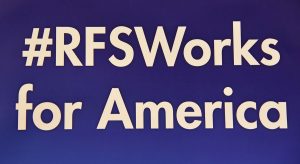 Today from 7-10 AM central time agriculture and ethanol advocates will be participating in a Twitter Townhall, prior to the scheduled meeting today at the White House regarding the Renewable Fuel Standard (RFS).
The effort grows out of news last week that EPA Administrator Scott Pruitt, already under fire for getting a sweet condo deal from the wife of an oil lobbyist, has been handing out dozens of small refiner hardship waivers to allow them out of their RFS obligations.
The National Corn Growers Association (NCGA) is calling on members to take action. "While the White House weighs options, the EPA continues to undermine and mess with the RFS, granting questionable RFS waivers to refiners with no transparency and failing to provide regulatory parity for higher blends of ethanol. The EPA continues to check-off the items on Big-Oil's wish list while gutting corn and ethanol demand and undermining the President's commitment to the RFS in the process."
Advocates will be using the hashtag #RFSWorks, tweeting to @realDonaldTrump and/or @POTUS, @EPAScottPruitt and members of Congress this morning. The president is expected to meet this morning with Pruitt and Agriculture Secretary Sonny Perdue to discuss the issue again. The industry is encouraging the administration to consider real solutions, including RVP parity that would allow year-round sales of ethanol blends greater than 10 percent.
NCGA notes that since discussions about appeasing oil interests by capping Renewable Identification Number (RIN) prices started in January, RIN prices have fallen 50 percent.