A Reuters report about EPA exempting one of the country's largest oil refiners from complying with the Renewable Fuel Standard (RFS) touched off a backlash from farm groups and ethanol organizations Tuesday.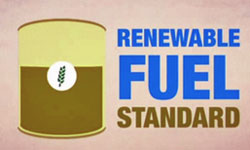 The National Farmers Union (NFU) was first to respond to the report that Texas-based Andeavor received small refiner economic hardship waivers for three of its 10 refineries that exempted them from complying with 2016 blending obligations. NFU President Roger Johnson called the alleged actions "deeply disturbing," noting that waiving RFS requirements for large refining corporations undercuts the effectiveness of the law. "What's equally disturbing is that these actions have purportedly been taken without any transparency, which violates central tenets of responsible governance," said Johnson. Andeavor reported a $1.5 billion net profit last year and the waiver was reportedly granted earlier this year.
"Providing a small refiner waiver to a company like Andeavor is laughable and abandons the commitment of President Trump to protect the RFS," said Renewable Fuels Association (RFA) president and CEO Bob Dinneen. "Suffice it to say we are exploring all our options to return the RFS to what the statute intended and what the President has supported."
The impact of the waiver removes additional Renewable Identification Numbers (RIN) from the total 2016 obligation, effectively reducing the total Renewable Volume Obligation (RVO) for the year. The agency previously disclosed that it had exempted at least 14 small refiners from the 2016 RFS requirements, and has approved exempting bankrupt Philadelphia Energy Solutions from a majority of its obligations for 2016 and 2017, a settlement expected to be approved in bankruptcy court today.
"Since EPA refuses to disclose which refiners get these RFS exemptions, it blurs the transparency of the RIN market giving an advantage to refiners receiving waivers," said American Coalition for Ethanol (ACE) CEO Brian Jennings. "Waiving RFS obligations based on ethanol use thresholds violate the intent of the RFS and invite litigation."
The waivers impact both ethanol producers and corn farmers, who are facing their fifth year of prices at or below the cost of production.
"Granting these waivers significantly reduces the number of gallons of fuel blended with ethanol hurting rural economies and the nation's corn farmers," said National Corn Growers Association (NCGA) president Kevin Skunes of North Dakota. "When refiners aren't meeting their blending obligations, corn farmers pay the price."
Two of the Andeavor refineries receiving the waivers are in North Dakota and one in Utah.