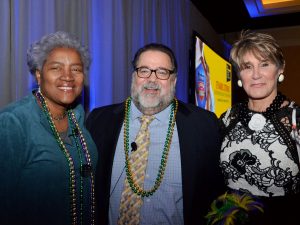 The National Corn Growers Association (NCGA) and a number of state corn grower groups put in an Ethanol Strong showing at the National Ethanol Conference last week.
Ten state corn grower organizations sponsored the NEC luncheon which featured political strategists Donna Brazile and Mary Matalin, two fellow New Orleans Catholics who hold different political views but are very close friends. It made for a very entertaining Fat Tuesday conversation with RFA president and CEO Bob Dinneen, thanks to the corn growers in Illinois, Indiana, Iowa, Kansas, Kentucky, Michigan, Minnesota, Missouri, Nebraska, and Ohio.
Immediately following lunch, NCGA Director of Public Policy Kathy Bergren participated on a Washington Insider's panel, discussing policy priorities, infrastructure and RINs. "Our top priorities when it comes to ethanol this year include promoting and protecting the RFS, working toward RVP parity for E15 and higher blends and expanding opportunities for biofuels as a high-octane fuel," Bergren said.
Renewable Fuels Association Vice President of Government Affairs Samantha Slater moderated the panel, which also included Frank Macchiarola with the American Petroleum Institute; Tara Billingsley, Jim Massie & Partners; Michael McAdams, Advanced Biofuels Association; and
Devin Mogler, Green Plains Trade Group.
Listen to the panel here, starting in progress with Bergen's comments on some corn grower priorities. Washington Insiders Panel Discussion on Policy