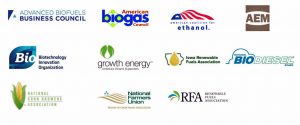 Biofuels stakeholder organizations have sent a letter to President Donald Trump, urging him to "act quickly to prevent actions" at the Environmental Protection Agency (EPA) that threaten to undermine future growth of the biofuels industry under the Renewable Fuel Standard (RFS).
"If the proposed changes are finalized, EPA's actions would cause severe harm to our industry, undermining your efforts to drive economic growth and secure America's status as the global leader in biofuel production," wrote the 11 organizations, which include the American Coalition for Ethanol (ACE), Association of Equipment Manufacturers (AEM), Renewable Fuels Association (RFA), National Biodiesel Board (NBB), and National Corn Growers Association (NCGA).
The letter is a response to rumors of EPA considering "drastic, unprecedented changes" designed to benefit petroleum refiners in which U.S. biofuel export volumes would count towards compliance with the RFS, on top of EPA's reduction in the total 2018 RFS renewable fuel blending requirements below the levels required in 2017 and consideration of further reductions to the 2018 RFS volumes.
"President Trump has been a strong and consistent supporter of fuel ethanol generally and the RFS specifically," said RFA President and CEO Bob Dinneen. "However, recent proposals by EPA appear to run counter to the president's renewable energy vision." Click here for Dinneen's comments on EPA's consideration of further reductions in the RFS.
In the letter, the groups clarified that they oppose any weakening of the 15 billion gallon conventional biofuel requirement, believe the proposed reduction of the 2018 advanced biofuel requirement is unwarranted and the current treatment of imports and exports under the RFS should be maintained.