The controversy that erupted this week within the ethanol industry over alleged backroom deals with the Trump administration to change the Renewable Fuel Standard (RFS) has generated a lot of discussion this week at the annual Commodity Classic in San Antonio. The event is the annual meeting for thousands of corn, soybean, wheat and sorghum farmers from around the country.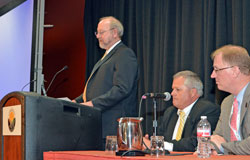 National Corn Growers Association (NCGA) president Wesley Spurlock of Texas says they are talking with all sides about the issue which has pitted ethanol organizations that corn growers support against each other. "I think we set and watch and let cooler minds prevail," said Spurlock.
Maintaining the RFS remains a top priority for NCGA, as is getting EPA to waive the Reid vapor pressure (RVP) requirement to allow the year round use of ethanol blends higher than 10 percent in all markets, but the organization has never taken a stand on the point of obligation change that was requested by oil refiners. "We know that there is a definite monetary value if we get the RVP fixed," said NCGA first vice president Kevin Skunes of North Dakota. "We don't have enough information now to take a stand on the point of obligation."
NCGA CEO Chris Novak says they want to look at what impact changing the point of obligation might have. "That may change (retailers') incentive for offer higher blends," he said.
Listen to comments about the issue during a Commodity Classic press conference: NCGA press conference – ethanol