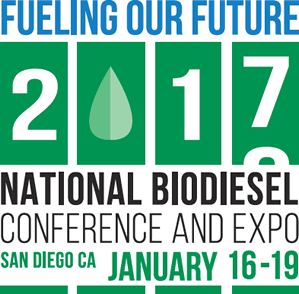 The biodiesel industry will be heading to San Diego, California next January for the 14th annual National Biodiesel Conference and Expo. This year's theme is Fueling our Future and takes place January 16-19, 2017. Some of the key topics will be the future of biodiesel with Donald Trump, the 45th President of the United States, as well as highlight new data supporting the carbon reduction and emissions benefits of biodiesel. There will also be discussions around some of the country's groundbreaking environmental policies like California's Low Carbon Fuel Standard. Attendees will also hear from new National Biodiesel Board (NBB) CEO Donnell Rehagen and his vision for the future of biodiesel about his plans for the organization.
"Our conference theme is 'Fueling our Future,' reflecting that biodiesel is here to stay as we move forward into a new era," Rehagen said. "Biodiesel continues to serve as an essential element of our nation's fuel supply, and we plan to keep growing. This conference represents that launching point, and anyone whose business or organization involves biodiesel should be engaged at this event."
Sessions planned include:
Strategic Distribution for Domestic Biodiesel Production: Challenges & Opportunities
California's Thriving Low-Carbon Markets
Understanding Carbon Markets in the Northeast
Clearing the Error: Tips for Avoiding Costly RFS Compliance Mistakes
Spotlight on Washington: What to Expect with a New Administration and Congress
The Road Ahead: OEMs and Fleets Cutting Carbon with Biodiesel
Make it So: ASTM Spec Changes Helping Biodiesel Boldly Go into the Future
Show You the Money: Tapping into Federal Programs
Data Dive: What do Americans Really Think About Biodiesel?
Attendees will also have the opportunity to participate in the Ride-and-Drive and check out all things biodiesel in the exhibit hall.
Registration is open. And applications are still being accepted for a scholarship to attend the event under the Next Generation Scientists for Biodiesel Program. Application deadline is November 18, 2016.