The American Eth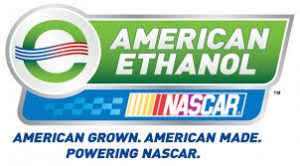 anol sweepstakes winners are taking on the infamous Talladega this week in sweet home Alabama. Fans won't be seeing the likes of NASCAR driver Ricky Bobby (yes, I went there – Talladega Nights, the Ballad of Ricky Bobby) but they are going to see some amazing racing from drivers in speedsters fueled by E15, 15 percent ethanol and 85 percent race fuel).
To celebrate NASCAR speeding past the million mile mark racing on E15, American Ethanol launched two sweepstakes this past May. The winner of the "We've Got Power" fan sweepstakes is Joey Lomenzo of Long Valley, New Jersey. He is an avid NASCAR fan who shares his knowledge and support of American Ethanol and ethanol-blended fuels on social media.
The "Engine Insiders Talk Shop" engine industry professional sweepstakes winner is Allen Huggins who graduates this week from the NASCAR Universal Technical Institute in Mooresville, North Carolina as an engine technician. He says he can't wait to see the classroom come alive on the track at Talladega.
American Ethanol, a partnership of the National Corn Growers Association and Growth Energy, invites everyone to enjoy the same clean fuel benefits of E15 in their vehicle as NASCAR puts in their race cars. To find a fuel retailer in your area who sells E15 and higher ethanol-blended fuels, visit GetEthanol.com. And while you are there, pick a Pink Out E15 retailer to support Breast Cancer Awareness month – your health and the health of your family will thank you.